Coolroom panel

With advances in materials and manufacture, the modern coolroom panel has become a weight bearing, self-supporting building panel used by many industries to clad buildings and enclosures. However, its main function and purpose is uniquely suited for the temperature control of cold storage and cool to ambient temperatures that food handling projects require with temperature and atmosphere control to meet various industry regulations.
The types of insulated panels now available for modern construction provide a scalability and versatility not seen in products from many years ago. They now provide an economy of scale and strong dependability in its manufacture.
Custom made insulated panels are cut and sized to your specifications - made-to-measure in our factory. The benefit is that this helps reduce the overall installation time. It also reduces onsite changes so that only minor tweaks are needed to finish the project. This overall concept makes for easy handling which reduces costs and provides a faster 'on time' completion.
EPS (Expanded Polystyrene) panel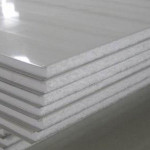 Insulated sandwich panels are single piece factory engineered units typically comprised of two metal faces bonded to a fully insulating core. The metal facings are fully bonded to the core so that the panel acts compositely when under load. In most cases, providing free standing and load bearing panels.
The majority of EPS panels manufactured in Australia are made with an EPS core sandwiched between two Colorbond steel facings.
Standard width is 1200mm with either flat or ribbed surface finish and a variety of colors. Maximum span is determined by the thickness of the panel. Panel thickness ranges from 50mm to 250mm which also determines the maximum span of a panel. Maximum span on a 50mm panel is 3500mm and on a 250mm panel it is 10400mm.
EPS Panel is a proven construction material well-suited to the extremes of the Australian climate. It is a cost-effective, lightweight construction material with excellent insulation properties.
The advantages of EPS Panel include:
High load bearing capacity at low weight
Effective and durable thermal insulation
Absolute water and vapour barrier
Air-tightness for controlled environments
Long life, low maintenance
Lightweight, fast and economic construction
Hygienic food grade finish
Most cost effective insulation material available
Australian manufacture permits shorter lead times and prompt delivery
PIR (polyisocyanurate) panel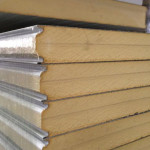 PIR cored Factory Mutual (FM) approved fire resistant insulated panels for all types of temperature controlled applications & controlled environment projects.
Panels have a range of finishes standard rib Equi-Bead, flat & Micro Rib.
The high thermal performance PIR core offers improved energy savings, and or reduced thicknesses of construction, when compared to other insulated panel systems. They are fire safe, hygienic and fibre free.
The complete range of insulated panels are suitable for both temperature controlled and hygiene safe environments for temperatures down to -40 degrees Celsius. They are ideally suited to food processing, deep freeze, cold and cool store, clean rooms for bio-technology and pharmaceutical industries, and ambient or elevated temperature storage rooms.
Panels are available in lengths up to 16500mm. Panel thicknesses ranges in six sizes from 50mm through to 200mm. This covers a range of R-values from 2.50 to 10.0 m2K/W.
XFLAM panel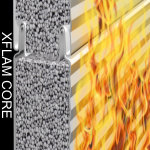 XFLAM Panel combines trusted and competent lamination processes with ground-breaking, patented, thermoset, FIRE RESISTANT foam insulation.
Fire does not spread within the XFLAM Panel system confining damage to the immediate areas of fire impact and isolating the fire into cells thus preventing fire growth. Very low smoke production contributes to the overall safety of XFLAM construction for occupants and fire fighters together.
XFLAM is the king of span with superior spanning capability than EPS, PIR, PUR, and mineral wool. An XFLAM building requires less structural steel; producing cost reductions and greater useable space in the building interior.
XFLAM is a fully integrated wall system delivered with external cladding, integral insulation and internal finishing complete in a single component. The absence of connecting elements between interior and exterior skins eliminates thermal bridging and delivers the full insulating value of the core materials enabling the use of relatively slender integrated constructions to meet Section J requirements.
XFLAM Performance Panel Skins include a comprehensive range from galvanized or galvalume coated steel to next generation Colorbond® steel with activate™ technology all on a base metal thickness (BMT) 0.4mm to 0.7mm and a superior performance paint system as required by the application. Other options are available such as stainless steel and aluminium.
Standard widths of 1000mm and 1200mm. Other widths are available on request subject to minimum order quantity. Thickness can be specified in (mm) 38, 50, 75, 100, 125, 150, 175, 200, 225, 250, 300. Varied thickness' are also available, subject to project requirements and lead times. Span lengths may be obtained, as required, determined by handling, design and transportation considerations from 1.5m – 25m.
Coldroom doors

All manufacturing of a coldroom door is completed in our factory to your specifications that meet each individual requirement. Done in our factory, to suit each individual project. We have a vast array of different type of of doors to accommodate any special needs or requirements.
Complete Coolroom Services can supply and install hinged and sliding doors for both freezer and cool store applications.
Our door construction and fittings are specially designed to meet the specific requirements set down for the food industry and fulfill the environmental requirements of that industry as well as being able to withstand rough treatment.
For narrow spaces and if pedestrians and vehicles frequently access cold rooms, sliding cold room doors are the preferred solution. Complete Coolroom Services is the expert in sliding door design and construction. Our single sliding door is used for personnel and material handling traffic where space restricts the use of conventional swing doors or when installation space is only available on one side of the door opening (corridors and loading platforms).
Complete Coolroom Services door edges are constructed from resistant heavy gauge aluminium profiles. The doors may be constructed of the thickest available insulated panel up to 150mm. Stainless steel finishes are available. Having the correctly constructed and fitted door to your cold room prevents the formation of ice and increases your energy savings. All our doors have a smooth metal surface which is easily and hygienically cleaned.
Aluminium extrusions
Complete Coolrooms Services has a large range of aluminium sections in our factory to suit your all your coolroom construction needs.  All extrusions can be pre cut to measure ensuring the right fit for your job. Please view the various types of extrusions available:
35mm Coving

Available in mill or bond off-white. Standard length 6.5m

50mm Coving

Available in mill or bond off-white. Standard length 6.5m

75mm Coving

Available in mill or bond off-white. Standard length 6.5m

Arrowhead

Available in mill or bond off-white. Standard length 6.5m

Bump rail

Available in mill or bond off-white. Standard length 6.5m

Commercial track

Available in mill or bond off-white. Standard length 6.5m

Door frame 117mm capping

Available in mill or bond off-white. Standard length 6.5m

Door frame 92mm capping

Available in mill or bond off-white. Standard length 6.5m

J-track

Available in mill or bond off-white. Standard length 6.5m

T-section

Available in mill or bond off-white. Standard length 6.5m